In concordance to HARLEM's CSR initiatives of providing a platform for learning, re-learning and further learning to our young, brilliant, ever-focused undergraduates and graduates in Nigerian Universities, we are  excited to announce the completion of 2019 Internship Program, having interned the following students for the year 2019, in batches:

Ayomide Akintayo – Bowen University, Iwo, Osun State;
Ajumoke Babatunde-Lawal- Babcock University, Ilishan-Remo, Ogun State;
Ayikpo Timothy (Legal Intern)- University of Ibadan;
Esther Omodayo- Osun State University, Ifetedo-Campus, Osun State;
Akinyemi Akinpelu- Graduate Intern, Obafemi Awolowo University, Ile-Ife, Osun State;
Oluwatobiloba Akinboade- Graduate Intern, Osun State University, Ifetedo-Campus, Osun State; and
Aminat Tijani- University of Ibadan.
At HARLEM, we glory in the kudos of the provision of an experiential platform for these future leaders to gain exposure to real-world problems and issues and grow personally in the context of their legal career and personal goals.
HARLEM, in its usual manner, did set a textbook example of team-bonding with a sumptuous welcome lunch organized for these brilliant students at Davies Hotel as a prelude to jumpstarting their career in the Corporate world.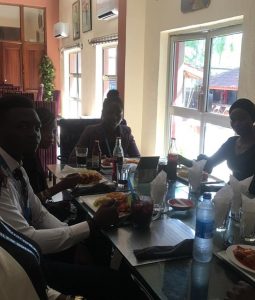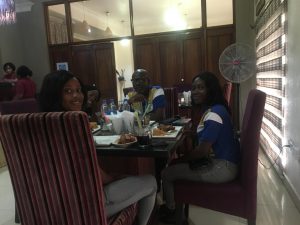 We are proud of the valuable experience the batches of interns gained- from Ayomide Akintayo (500L, Bowen University), Ajumoke Babatunde-Lawal (400L, Babcock University) and Ayikpo Timothy (400L, University of Ibadan)- pictured below:
…..To Akinboade Oluwatobiloba (Graduate Intern, Osun State University), Omodayo Esther, (500L, Osun State University), Aminat Tijani (400L, University of Ibadan), Akinyemi Akinpelu (Graduate Intern, Obafemi Awolowo University)- pictured below: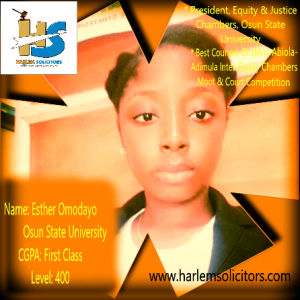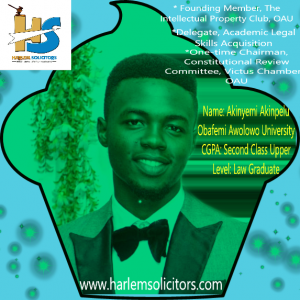 Our firm has indeed been enriched by their gain. Our practice model, which integrates experiential learning program via the paid internship and externship, has doubtless been exciting. Small wonder it has been ratified by great demonstrations of popular enthusiasm, as law graduates and undergraduates keen on learning continue to apply in droves.
With a strong emphasis on training, the inevitable result of the program has been one which helps the participants to scale and measure better as Law undergrads and graduates, putting them on a better turf/podium and ensuring that they exceed far above their contemporaries. We at HARLEM are enthused by the opportunity and platform we provide for these brilliant, young minds. That is the belief we nurture, and our justification for striving harder.
We exposed our interns to a lot of real-live issues. For instance, our #interns tasted the potential gains derived from their witnessing and having a crucial first-hand experience of how a Multidoor Court sitting works in practice. To Omodayo Esther, Akinboade Oluwatobiloba, and Akinyemi Akinpelu, no more second-hand impressions of what a Multidoor session entails. The session they witnessed, which involved #harlemsolicitors (representing the Applicants/Claimants) no doubt appealed to the #interns more than a laboratory specimen.
We also had a rewarding experience at the one-day Work Retreat today with our interns during the Work Retreat with our Principal Partner. This was In line with our usual practice during internship program at #harlemsolicitors to disconnect from the routine of daily work, leave the office environment and hang out as a group, to laugh and get a good dose of inspiring words from him, and for the interns to ventilate their visions, goals and aspirations for the future so as to be properly guided as they make all endeavours to climb onto the different heights of eminence in the legal profession.
We at HARLEM chose a peaceful, off-the-beaten-track and tranquil venue for the Retreat: International Institute of Tropical Agriculture, IITA, Ibadan. It was indeed an occasion for the interns to build new and everlasting bonds with #harlemsolicitors, one which lasts beyond the internship. We thank our host, Odufolake Babatunde-Lawal, BA, ACIPM-HRPL, MIPR for the rousing welcome given to us at IITA. See pictures below:

 Also, our interns had different fora to brainstorm with a lot of fun: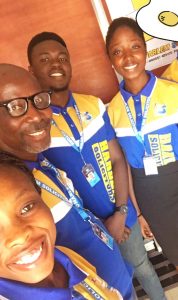 The pace of the internship training grew a lot faster, especially for the 'Batch C' interns- as they were made to clearly see the bigger picture in the area of #telecommunications law practice- after HARLEM took them on an excursion to NCC (Ibadan Zonal Office) where they met with the Zonal Controller, Mr. Yomi Arowosafe and some other key officials. We are sure that, after this meeting, our interns' Regulatory intelligence in the area of Telecoms practice will no longer be tangential, or on the level of intermittent perception. See pictures taken during the visit to NCC: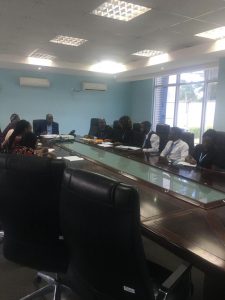 The learning and unlearning continued with the need to bring the Interns up-to-speed and hands-on with practical knowledge (following their visit to the Nigerian Communications Commission, NCC). So, they also paid a visit to the South-West Zonal office of the National Environmental Standards and Regulations Enforcement Agency, NESREA, in Ibadan. See pictures below: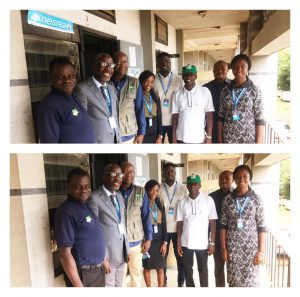 At #harlemsolicitors, we also have a built-in support system for our interns to access, learn and draw inspirations from naturally high energy and reputable members of the legal profession with an expert-level understanding of the practice.
This drive, among other things, took us to the shoe-engulfing law firm of Chief Afe Babalola, SAN, where the Learned Silk, Mr. Adebayo Adenipekun, SAN, FCIArb. received us with open arms and gave useful tips and copious words of wisdom, new insights and unique perspectives, completely flushing the imagination with a hint of a higher reality. We are steeped in the Learned Silk's debt to acknowledge it sufficiently.
Furthermore, during an unscheduled visit to #harlemsolicitors, Mr. Akeem Agbaje (Managing Partner, Agbaje, Agbaje Legal Practitioners and former APC governorship aspirant) had a powerfully evocative session with our 'Group A' interns, sprouting fruits of wisdom and the interactions with him radiating such a dazzling gleam.
The learning process of our Interns brimmed to overflowing its cup and their exposure, further fortified. ur Interns later acquired further insight and clarity on the environmental regulations and gained global perspectives on issues bordering on telecommunications law after Mr. Adeleke Ajani (Zonal Director, South West) of the National Environmental Standards and Regulations Enforcement Agency, NESREA, moved his office to #harlemsolicitors premises to meet the interns and the other team members of HARLEM.
Our Interns also visited the Prime Solicitors and met with Mr. Oluseun Abimbola, the immediate past Attorney-General/Commissioner for Justice of Oyo State and Managing Partner, Prime Solicitors.
This year's internship programme was rounded off with a farewell lunch and presentation of certificates at Premier Hotel, Mokola, Ibadan. Check out some of the pictures: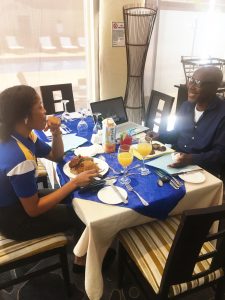 For more details about the 2019 Summer Internship program, please visit our LinkedIn and Facebook pages: HARLEM Solicitors.
For information on HARLEM Summer Internship progamm, please click HERE  and you can also see the Roll-Call of our past Interns HERE.